A popular way to communicate with customers used by people is the use of email. Informing clients about your products and services aswell as marketing promotions are only some of the ways you can use email. E-Mails can also contain branding with logos or tag lines, and they can also offer direct response tools like reply links, e-mail addresses, telephone or fax numbers.
A skillfuly written e-mail will be better received, these skills can be learned. The syntax in the body of your email as well as the tone of speech, should be the prime focus when writting.
Below are some points which should be considered when composing your e-mail.
– The subject line must be interesting, encouraging the recipient to want to open the e-mail and read more.
– A brief subject line will get better results.
– The senders details must be included to comply with spamming laws.Using your favourite search engine, perform a search to check spamcorp or another "anti-spam" sites.
– Develop the body of the e-mail; Be sure to include a good introduction, followed by well constructed paragraphs]. Avoid hype and misleading your audience.
– Be sure to check your email for spelling and grammatical errors. In addition do not "shout" that is use all capital letters.
– Read e-mails that your receive. Practice writting emails that you would like to get and sharpen your communication skills.
Do like the Boy Scouts and "Be Prepared" when e-mail message.Prepare with a few marketing utilities to use in advance as follows.
Marketing Tools.
Folder – Get in the habit of recording and ideas you may have for future e-mail marketing promotions and keep these in a file either on your computer or as a physical file.Save your favorite emails you receive from others too, for inspiration. You can create your own original e-mails, by using these as a template .
Headlines – Create a Microsoft Word or text document to store your best headlines and ideas for future headlines.
PS – Most gurus believe that your visitors will head straight to the PS area first. So, keep your favourite Postscript remark; special sales; givaways, etc.
Guarantee – The same with guarantees. Think about the guarantees on the items that you have bought recently! Use these to begin with.
Reference Guides – Use tools such as Dictionary.com or a favoriite encyclopidia marked as a favourites folder on your computer. Perhaps keep physical copies nearby also.
The correct bunch of marketing tools, will assist you to "Be Prepared" too. Your next terriffic e-mail marketing campaign begins when you begin to compile your marketing ammunition!
Click here for your Free Membership to the eMarketers Club Values at $27.00
Recommended

Niche Video Site Builder

#1 In JVZoo for a reason... This is the most popular video website builders. Improved years after years, it now powers more than 350,000 video websites on the Internet with its unsurpassed features.
Stop! Go See This HOT OFFER...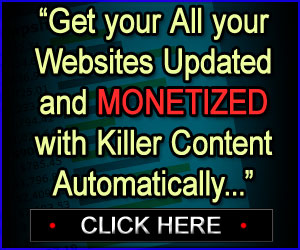 Monetize Your Websites With Killer Content Automatically - Click Here!
Tweet



Powered By Success Quotes
Related Posts
Related Websites