No matter what you're doing with your business, it's always a good idea to remind yourself that you should make it easier for others to help you. After all, the easier it is to help you, the more people will do it.
Take for instance affiliate programs. A casual browsing of www.clickbank.com will make it obvious that you have thousands of different affiliate programs you can promote.
But when it comes to selecting a program, which one will you choose? If you're not terribly worried about making money, you might just pick any program at all. If you're profit-oriented, you'll probably spend some time making a careful choice. You'll probably consider:
1.         Whether a product is relevant to your site's niche
2.         Whether the product has a history of converting and is popular with affiliates, as given by Clickbank's rating system
3.         Whether the product pays a large commission
And last, but perhaps most importantly, you will consider the convenience of each affiliate program.
For instance, you will check to see whether they have pre-made text ads, pre-made banner ads; and whether they provide lists of relevant keywords for PPC advertising.
You will also look for a program that provides additional sales materials, such as squeeze page code and salesletters—all stuff that would make it easier for YOU to make a profit.
Keep this in mind when trying to get others to help your business do well. Whether you're doing this through viral marketing campaigns, an affiliate program, or joint venture marketing, make it extremely easy and virtually costless for them to promote you. The better you do this, the better your exposure will be.
To Your Success,
Rob Willis
Download the full 27 Rules now. Get the full PDF eBook for Free Here!
Stop! Go See This HOT OFFER...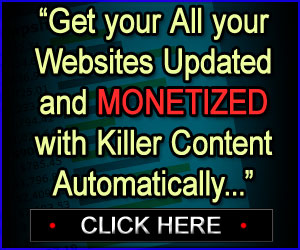 Monetize Your Websites With Killer Content Automatically - Click Here!



Powered By Success Quotes
Related Posts
Making Mistakes As a new Internet Marketer, we quite often get caught up with the results rather than the causes. For example we can often focus more...
Creating Your Own Information Products If you're looking for a way to create an additional stream of income through the business you already have, then creating an information product may...
What A Lizard Taught Me About Internet Marketing Today, while out on a walk, I paused for a few minutes to "converse" with a lizard. I noticed the tiny lizard (less than 6...
Related Websites