One universal piece of advice that all Internet marketers should be forced to hear is this: don't think about your business as being impersonal just because it's on the Internet.
Your customers are real. They have real wants, real desires, real problems, and real money to spend on your products. So treat them like real people—not product-purchasing units.
This might sound like generic advice, but it is the best starting point for all Internet marketers. So, before you draft your next product idea, start by conjuring up a picture in your head of who your customers might be.
Better yet, find them on blogs, in forums, and other places on the Internet. Locate them and find out who they are, what they want, and why they aren't satisfied with the current products or services they are using.
Don't treat them as if they're not people. Figure out what makes them tick; and use that to make your business appeal to them.
To Your Success,
Rob Willis
Tired of reading? Download the Full PDF eBook Here!
Stop! Go See This HOT OFFER...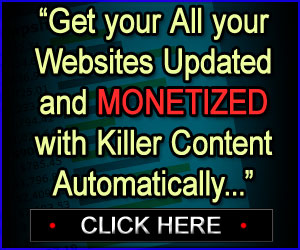 Monetize Your Websites With Killer Content Automatically - Click Here!



Powered By Success Quotes
Related Posts
XHeader Graphic Design Software Promoting your business through a website or blog can make it or break it when it comes to the graphics that you use. Some websites...
Getting Started in Affiliate Marketing If you are looking for one of the most popular home-based business systems about, you can't go past Affiliate Marketing  By getting some sort of...
Progress Report Well it has been over a week now since I have ventured out into the world of full time Internet Marketing. To tell the truth,...
Related Websites